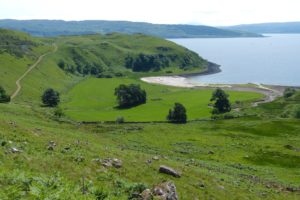 We're very excited to announce that as part of their 75th birthday celebrations, Archaeology Scotland are planning an archaeological field school in Ardnamurchan from 7th to 19th September 2019.
The field school will be exploring Camus Nan Gaell, and the unique collection of prehistoric and Early Medieval remains collected within the picturesque bay – occupied for at least 5000 years. The settlement was inhabited until the 19th Century before being cleared, with many villagers leaving Scotland for North America.
The dig will take place every day from Monday 9th between 9.30am and 5pm (except Saturday 14th), and residents of Ardnamurchan are welcome to get involved for as much or as little time as you are able. There will be a variety of tasks to suit all interests and abilities.
If you would like to come along it would help if you could let Phil Richardson of Archaeology Scotland know in advance so he knows the numbers to accommodate on the day's work: p.richardson@archaeologyscotland.org.uk
– however it is not vital if you decide on the spur of the moment to come along.
For those planning to come make sure you cover for all eventualities! Bring waterproofs, midge repellent and any drinks or snacks you might want. There will be a portaloo at the site.
Click here, to find out more about this fantastic event.