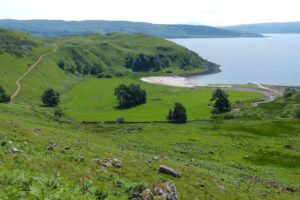 We're very excited to announce that as part of their 75th birthday celebrations, Archaeology Scotland are planning an archaeological field school in Ardnamurchan from 7th to 19th September 2019.
The field school will be exploring Camus Nan Gaell, and the unique collection of prehistoric and Early Medieval remains collected within the picturesque bay – occupied for at least 5000 years. The settlement was inhabited until the 19th Century before being cleared, with many villagers leaving Scotland for North America.
Click here, to find out more about this fantastic event.