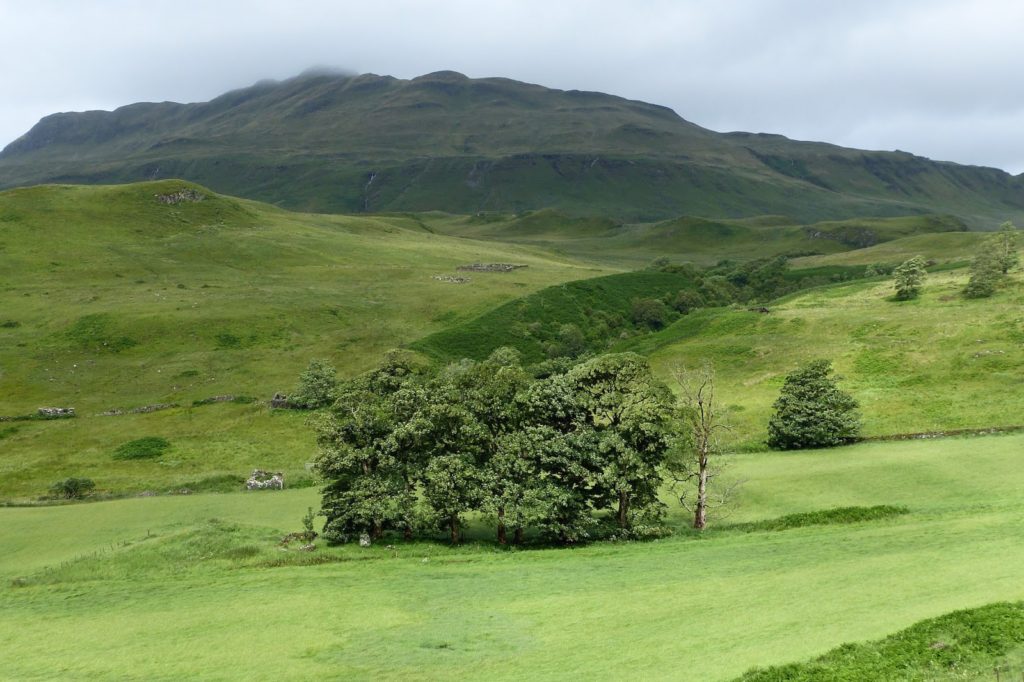 The chambered cairn at Camas nan Geall is Neolithic in age, something like 6,000 years old, and is of the Hebridean type. It lies at the southern end of, and is largely obscured by the line of sycamore trees which runs down the farm track through the field to the sea – some of the stones are just visible at the left hand end of the trees at the centre of the photograph, which was taken from the car park to the east.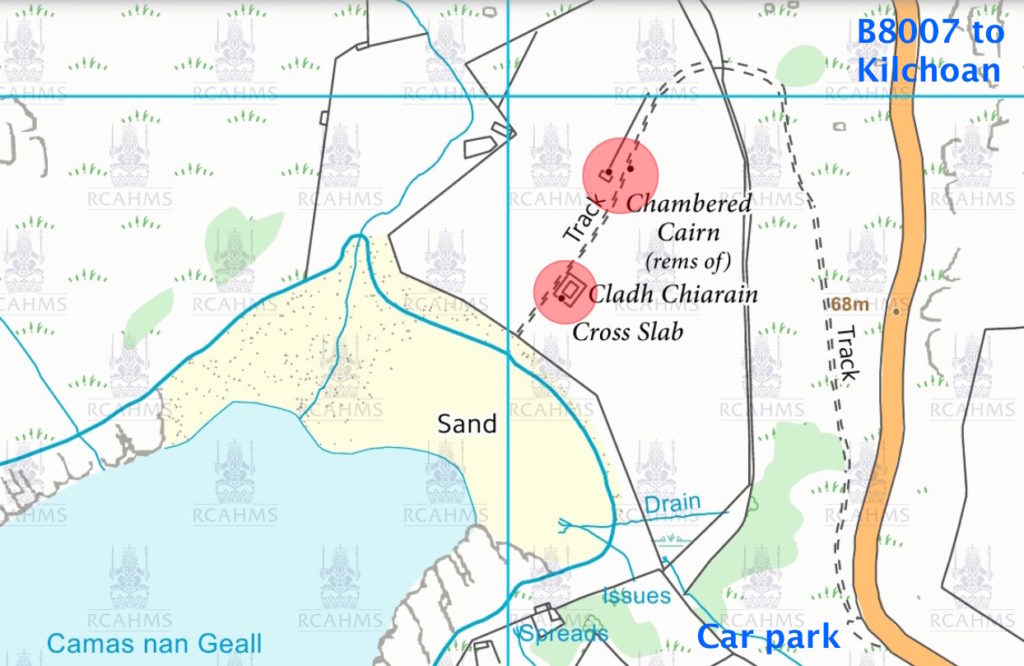 This map is taken from PastMap, which is the best way of finding known archaeological and historical sites. It gives access directly to sites recorded by Historic Environment Scotland ('Historic Scotland' until recently) and to Highland Council's Historic Environment Record, which also lists and describes sites.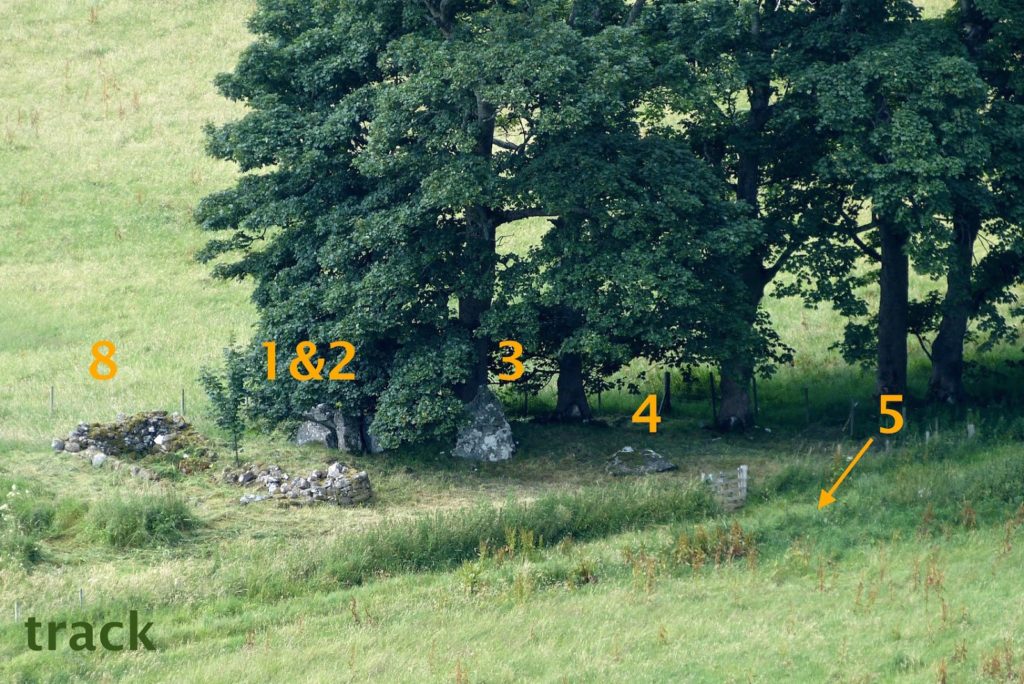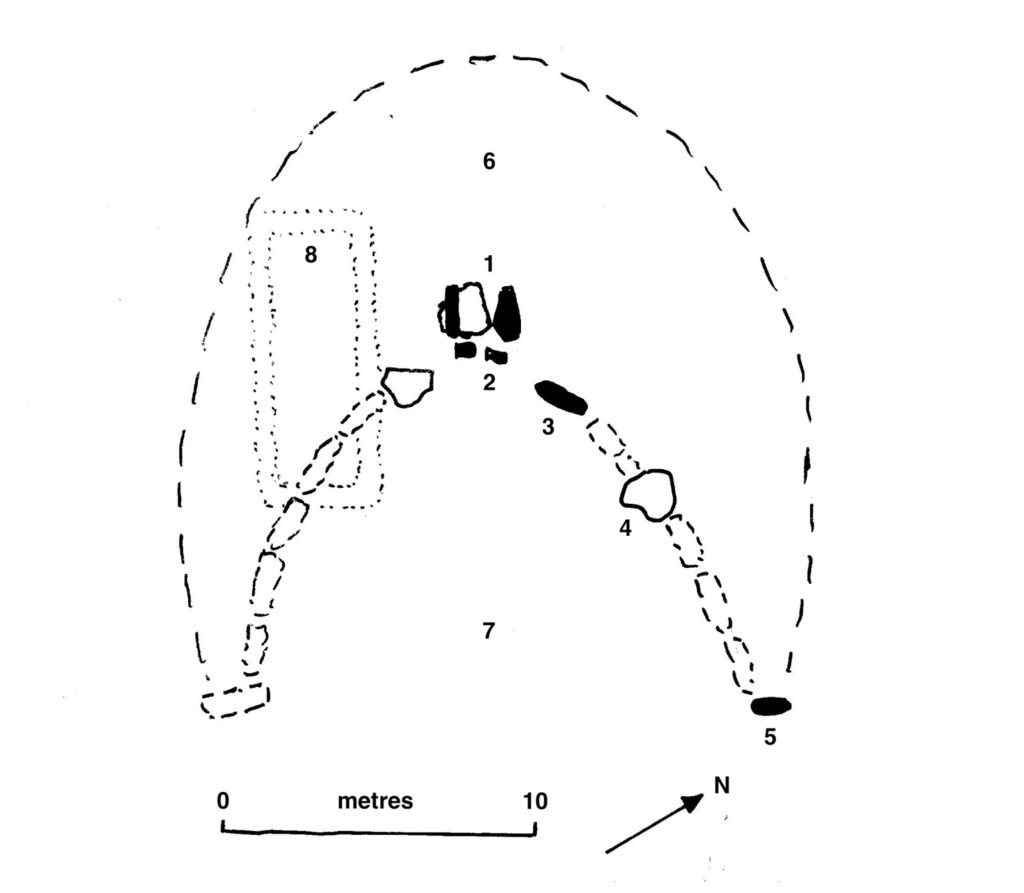 This diagram above shows what the structure may originally have looked like, while the photograph (a close-up view of the first) uses the same numbers. The 'cist' chamber (1) consists of two large, flat upright stones (in black) and a cap stone (unshaded) which has fallen. In front of them (2) stand two 'portal' stones which, as the name suggests, formed the two sides of the door into the tomb. Running in a crescent on either side of the portal stones were a number of large, flat 'facade' stones, of which two remain: one (3) remains standing and one (4) has fallen. All the other stones that formed the face of the monument are either buried or lost, probably broken up and now incorporated into the many buildings and walls of the site.
At either end of the facade there was a standing stone, of which only one (5), which is broken to a stump, remains – this is hidden by grass in the photo. It is easily found on the site as it is the only stone on the east side of the farm track, which runs almost exactly north-south beside it.
The area on the northwest side of the facade (6) was a large mound of rock which covered the cist. In front of the portal stones (7) lay a flat area in which one assumes is where the people attending ceremonies stood.
A later building (8) is shown as roofed in the 1872 Ordnance Survey map, though there is some suggestion that it may have had an earlier use as a chapel. As can be seen in the top photograph, it sits beside a man-made mound, which has not been explained.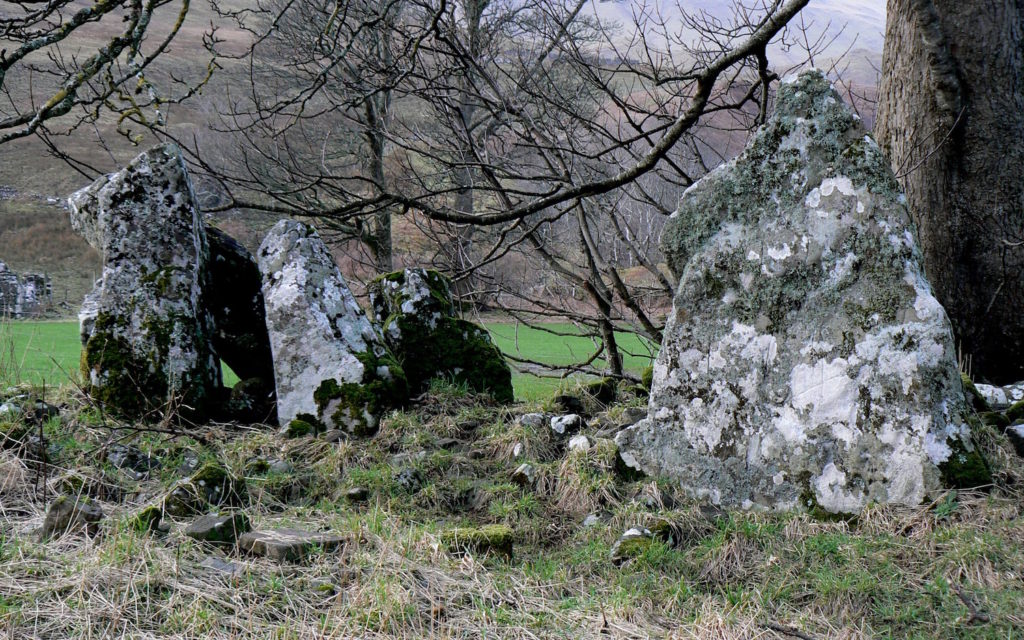 This close-up view of the monument shows the one remaining standing facade stone, on the right, with the cist structure on the left. The two vertical stones at the front are the portal stones, the fallen cap stone can be seen lying at an angle, while one of its support stones can be seen to the right.